At Gen/X Painting in the Okanagan, we value transparency in all facets!
Here on our blog, our intention is to educate potential customers and our community about painting products, and practices. The more information you possess, the more equipped you are to make the best decisions for yourself, and your home!
Whether you are looking to have an exterior painting job, an interior paint job, a cabinet re-finishing job, or if you are just curious and wanting to know more about the residential painting industry, you have come to the right place!
If you're considering painting your house – you may be wondering which paint products are best for the job! There are so many different options on the market, that it can be overwhelming narrow down what will be the best fit for painting your home. At Gen/X painting we aim to use products that will leave the smoothest finish, while providing the best longevity and protection. We want you to get the most out of your paint job for years to come! In this blog we will share our go-to favourite paint products, and why we think they are the best options compared to others on the market!
(sheen – pearl – lower sheen hides imperfections)
This is hands down our favourite paint for refinishing your cabinets! Firstly because when lacquer is sprayed, it creates the smoothest finish and lays down like glass. It makes the cabinets look like brand new – like they were bought with this finish on them! The second reason we love lacquer is because it is also known for its extreme durability and longevity. Giving your cabinets 10-15 years of new life! Your cabinets are cleanable with this product on them. This product also has extreme resistance to moisture. The only downfall with lacquer is that it smells strong during the application process. However – at Gen/X we take extreme care to preserve the air quality inside your home! We do this by creating a spray booth inside your house, and using a fan to vent the toxic air outside during the spraying process. 
This paint is the option we recommend for people who are more sensitive to the strong smell of the lacquer – and not able to leave their house during the application process when the smell is strongest! This would be good for you if you have asthma, allergies, or sensitivities to scent. Although – we recommend using Lacquer whenever possible, because it is the same price as water based, and it triples the life of the cabinetry compared to a water based paint! The scent of the lacquer only lasts during the painting process. Once dry, your home will no longer smell!
A good primer increases durability and adhesion for the top coat! This primer is designed to increase surface adhesions (which will increase the durability). We also love this stuff for its quick drying time! Making the overall process of refinishing the cabinets much quicker. 
(Primer and top coat in one) sheen: matte / flat
We spray ceilings for the most consistent silky smooth finish. The matte sheen combined with the spray finish creates the most uniform coat. You won't be seeing any blemishes, even in the most dynamic lighting. 
We love this paint product because of the protection it offers the walls. It hides imperfections, and is fingerprint resistant! Also this brand and sheen is great for touch ups. Other paints may have 'flashing' meaning you will be able to see where any touch ups are done – they will appear shiny. However – this paint hides touch ups really well. So if you get a blemish on your wall down the line, you can fix it easily yourself!
(sheen: pearl)
This paint is scuff resistant, and lays out very smoothly whether it is rolled or sprayed! Perfect for baseboards and trim. It is also washable, and great for touch ups! This paint is perfect to use in high traffic areas due to its strength and anti scuff properties. 
Siding: (sheen: matte) – Trim (sheen: low lustre / pearl)
(High end option

) Aura, low lustre:
This is an elite quality of paint! It runs about $10-15 more per gallon compared to the mid grade option. It is thicker, which causes it to fill cracks and imperfections in the wall. Due to the thickness it may also require less coats to complete the job. It also contains the highest available UV protection, which is great for preventing fading from the sun during the intense Okanagan summers (dark colours are espe
cially vulnerable to fading from sun damage)! Whether it is applied with a roller or sprayer, this paint blends really nicely and leads to a smooth finish. 
(Mid Grade option) Regal Exterior:
Still a great option when compared to the high-end paint, but more affordable! It has all of the same benefits just of slightly less caliber. Still providing adequate UV protection, and protection against wood rot!
Stains
Staining breathes new life into your wood, emphasizing it's beauty by bringing out the natural tones. Stained wood also holds up better against UV rays and wood rot, compared to a bare wood! There are various sheen options with these stains, from flat, to pearl to gloss! Although – flat is not recommended because it provides less protection. After staining wood, its important to maintain your stain, to increase the longevity of the wood. You can do this by applying a clear gloss coat every 3-5 years!
(sheen – pearl)
Important for maintenance of a stain job, provides protection from UV rays and wood rot. Will also revive the appearance of stain a few years down the line, so you're not darkening the wood every time by layering the stain! 
All of the products we like to use are from Benjamin Moore! Find out more about each individual product here on the Ben Moore website.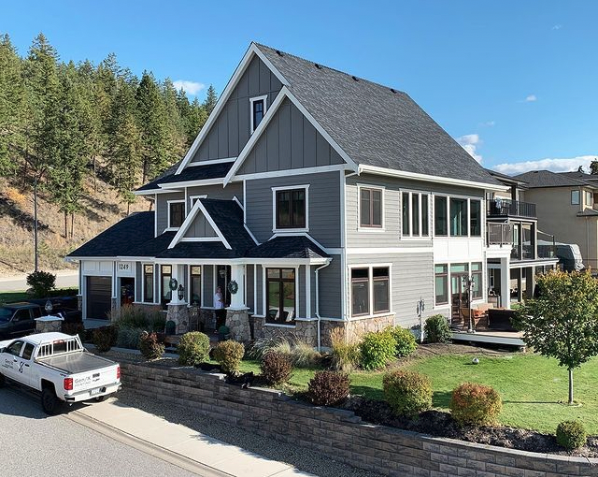 The next generation of quality, in service to our community!
When it comes to painting, your home is the canvas. Our professional painters in Kelowna offer high-quality painting services tailored to your needs.
Next Generation of Services
Servicing the Okanagan with professional residential painting projects for the last decade. We value transparency, honesty, and integrity. We are a service company, that happens to paint. Contact us today to get started on your painting project in the Okanagan! Gen/X is happy to provide our workmanship to clients throughout the Okanagan - helping people make their house feel like a home, through custom painting services.
© GenX 2020 | All Rights Reserved